Colvex début album released
(posted: October 2012)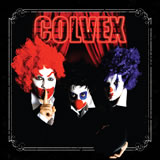 Finally! After over 10 years in the making, the first release from Simon and Gavin since The Secrets final album (1999's Violent Faces) hits the stores.
The self-produced self-titled album Colvex features 14 original tracks and showcases all aspects of the wide range of styles that make up the Colvex sound, from epic rock to swingin' jazz ...and is not to be missed!
The album is OUT NOW and digitally available worldwide via iTunes, Amazon.com and you can even listen for FREE on Spotify!

Gav solo material shortlisted in Soundtrax contest to score a movie!
(posted: March 2011)
As reported in October, Secrets drummer Gav recently entered three of his solo recordings — under his occasional Ultrasoundz moniker — to a competition run by Soundtrax on Muzu.tv with a chance to win the opportunity to score a new British movie entitled "Relative Desire".
We are delighted to announce that all three tracks have now been selected for the top 50 shortlist for the final selection to be decided by a panel of judges which includes director Michael B Clifford, composer David Julyan, Hywel Evans (EMI), and editor Ian Seymour. However, the decision on what material will feature on the soundtrack will not be made until the movie is edited.
You can listen to the full instrumental versions of Gav's tracks in contention on the Ultrasoundz MySpace page. For further information about the movie... click HERE...
Fingers crossed!

Gav solo material entered into Soundtrax movie competition
(posted: October 2010)
Gav has entered three of his solo recordings — under his occasional Ultrasoundz moniker — to a competition run by Soundtrax on Muzu.tv with a chance to win the opportunity to score a new British movie entitled "Relative Desire". On 19 November a shortlist will be drawn up for the judging panel of the 50 most viewed tracks entered to the contest so, to help Gav make that list, we'd be very grateful if you could spare a few moments to check out each track and, if you like them, click 'like'!
Gav says: "These three tracks are instrumental versions of some songs I recorded at home a few years ago. I guess I was going for a kind of atmosphere that I thought suited the footage in this competition. Who knows..?" Check out the following tracks now...
Another Crush... click HERE
Over Here Again... click HERE
Tomorrow... click HERE
You can listen to the full instrumental versions of each track on the Ultrasoundz MySpace page.

The Secrets: the exhibition!
(posted: March 2005)
Five years after The Secrets played their final live gig together, the band are STILL attracting attention! For one month starting 2 May 2005 the band are set to feature in a month long exhibition at the Notting Hill Arts Centre entitled NEVER MADE IT: a show honouring the best British bands that never hit the big time.
The exhibition will feature photographs and memorobilia of the band and most importantly a brand new video interview that all four band members recorded for the show recently in Watford.
For further details, visit: www.nevermadeit.co.uk

50p Secrets tracks (now legally downloadable!)
(posted: July 2004)

With the digital music revolution now truly underway, The Secrets have got in on the act and released 3 of their classic tracks, "Let It Go", "It Could Be You" and "Lies & Unconsciousness" now available to download legally and keep for just 50p each from Brightskies.com.
If these first releases prove to be succesful, it could pave the way for the band to output more material from their back catalogue, so watch this space!
To go direct to The Secrets' catalogue page at Brightskies.com... click HERE

Depart rockets to number one!
(posted: June 2001)
On 5 June 2001, a mere 18 months (!!) after the track was initially released in MP3 format to British Telecom's getoutthere.bt.com website for new music, The Secrets were amazed to learn that their track Depart (taken from the Violent Faces album) hit the top slot in the indie chart. The chart placings are calculated on the number of votes an MP3 receives. The band were notified via email and subsequently sent a £50 HMV Gift Token from British Telecom! Gav commented: "...and who said I'd never make any money out of this?! Talent will out of course. It's a real surprise but a very welcome one!"
The Secrets' track record on getoutthere.bt.com certainly makes impressive reading. Depart was their first MP3 release in December 1999 which, at the time, peaked at #5 in the charts. The track caught the attention of the website's marketeers who then picked it out for use in a national British radio campaign throughout Spring 2000 gaining the band exposure on stations such as XFM, Virgin and Atlantic. This was followed up by the release of It Could Be You in May 2000 which hit #12 in it's first week. Most recently, the band also uploaded The Next Big Thing which has already reached #3 in the website's rock chart.
For Watford Observer article...click HERE

Spotted! Simon and Gav play a Secret gig...
(posted: May 2001)
On Sunday 27 May, Gav joined Simon and (mystery) guitarist Paul onstage at the Coach & Horses in Croxley Green, Hertfordshire. With Gav swapping his drumsticks for bass-playing duties, the three played a fifteen minute mini-set featuring a new song of Simon's You Can Stop Me followed by a cover version of Stereophonics' Mr. Writer and, for the first time ever, an acoustic rendition of The Next Big Thing. Performing in front of a lively 100-strong crowd, the 'giglet' marked the two Secrets' first live show together in exactly one year and three days!

The Next Big...MP3 Single
(posted: May 2001)

Following their getoutthere.bt.com chart successes last year, the band returned to the British Telecom-sponsored new-music website recently by releasing The Next Big Thing in MP3 format on 20 May. The track entered the getoutthere rock downloads chart on 21 May at #18, climbing to #7 by 25 May and #3 in the voters' chart on the same day. At time of writing, the song's highest position in the general getoutthere chart has been #87.